My Little Farm Toddler Playland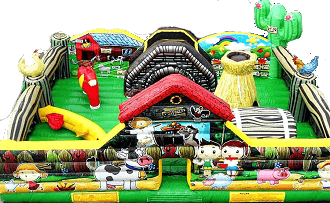 Description
The My Little Farm educational inflatable structure is designed to educate and entertain kids in an adorable farm setting. This game offers a small inflatable climb and slide and several 3D animals and structures, such as a dog, horse, chickens, hay stock and a cactus. My Little Farm makes it fun for little kids to bounce and slide while playing with farm animals! If you want to set up a designated toddler play area, My Little Farm will make a perfect one. There are small pop up obstacles and a 360 viewing for parents to watch their smaller kids play and giggle with delight!!
For ages 5 and under
Dimensions: 16' x 19' x 8'
This unit requires 1 outlet within 100 feet of the set-up area.
Uses 1 blower unit