Toxic Fall Obstacle Course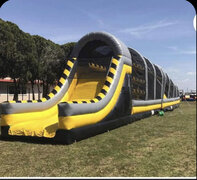 Adrenaline Rush 2 Obstacle Course
100' Obstacle Course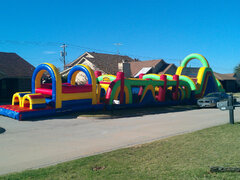 68' Obstacle Course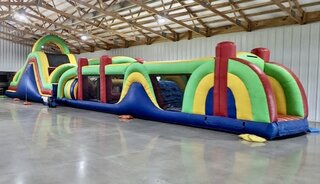 52' Obstacle Course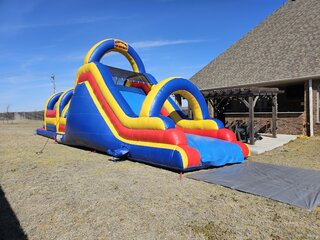 38' Obstacle Course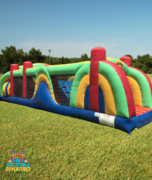 THE ULTIMATE OBSTACLE CHALLENGE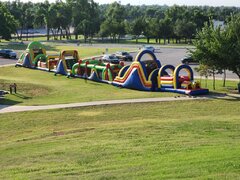 Train Toddler Playland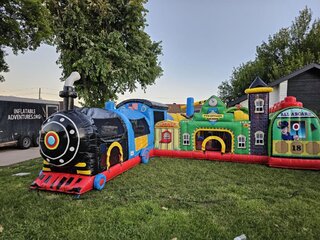 OKC Inflatable Obstacle Course
Book an OKC inflatable obstacle course by working with the fantastical team of Inflatable Adventures, where imagination knows no limits and laughter reigns supreme! Prepare to embark on a whimsical journey through a world of inflatable wonders that will leave you breathless with joy. Host a backyard birthday party, a community fundraiser, or an exhilarating elementary school field day with the help of our unbeatable party equipment.
At Inflatable Adventures, we believe every moment is an opportunity for adventure, and every event is a chance to create magical memories. With our enchanting selection of OKC inflatable obstacle course rentals and party supplies, we sprinkle a touch of magic into birthdays, school events, corporate gatherings, and community festivals. Our locally owned and operated business has years of experience turning run-of-the-mill events into unforgettable extravaganzas in Oklahoma City, Oklahoma , and surrounding areas of Oklahoma County.
Our dedicated, friendly, and experienced team weaves an atmosphere of joy and excitement, transforming ordinary events into extraordinary adventures. Our team of dedicated party wizards ensures that every detail is taken care of, from the safety of our inflatables to the seamless execution of your event. Whether you're celebrating a birthday, organizing a school carnival, planning a team-building extravaganza, or hosting a community fair, Inflatable Adventures is your one-way ticket to an unforgettable experience with one-of-a-kind OKC inflatable obstacle course rentals. So, come on in, leave your worries at the door, and let the magic begin. Your adventure awaits!
OKC Inflatable Obstacle Course Rental Uses for a Range of Fun Events
Oh, the places you'll go with an OKC inflatable obstacle course rental from Inflatable Adventures! These marvelous contraptions aren't just for one type of event. They're as versatile as a chameleon at a costume party. So, buckle up and let me whisk you away on a whimsical tour of the extraordinary events where obstacle courses steal the show.
First stop: the grand spectacle of birthdays! Whether you're celebrating your 6th or 60th trip around the sun, our obstacle courses add a splash of adventure to your special day. Watch as your guests become fearless warriors, conquering towering walls, crawling through tunnels, and leaping over hurdles, all while giggling with glee.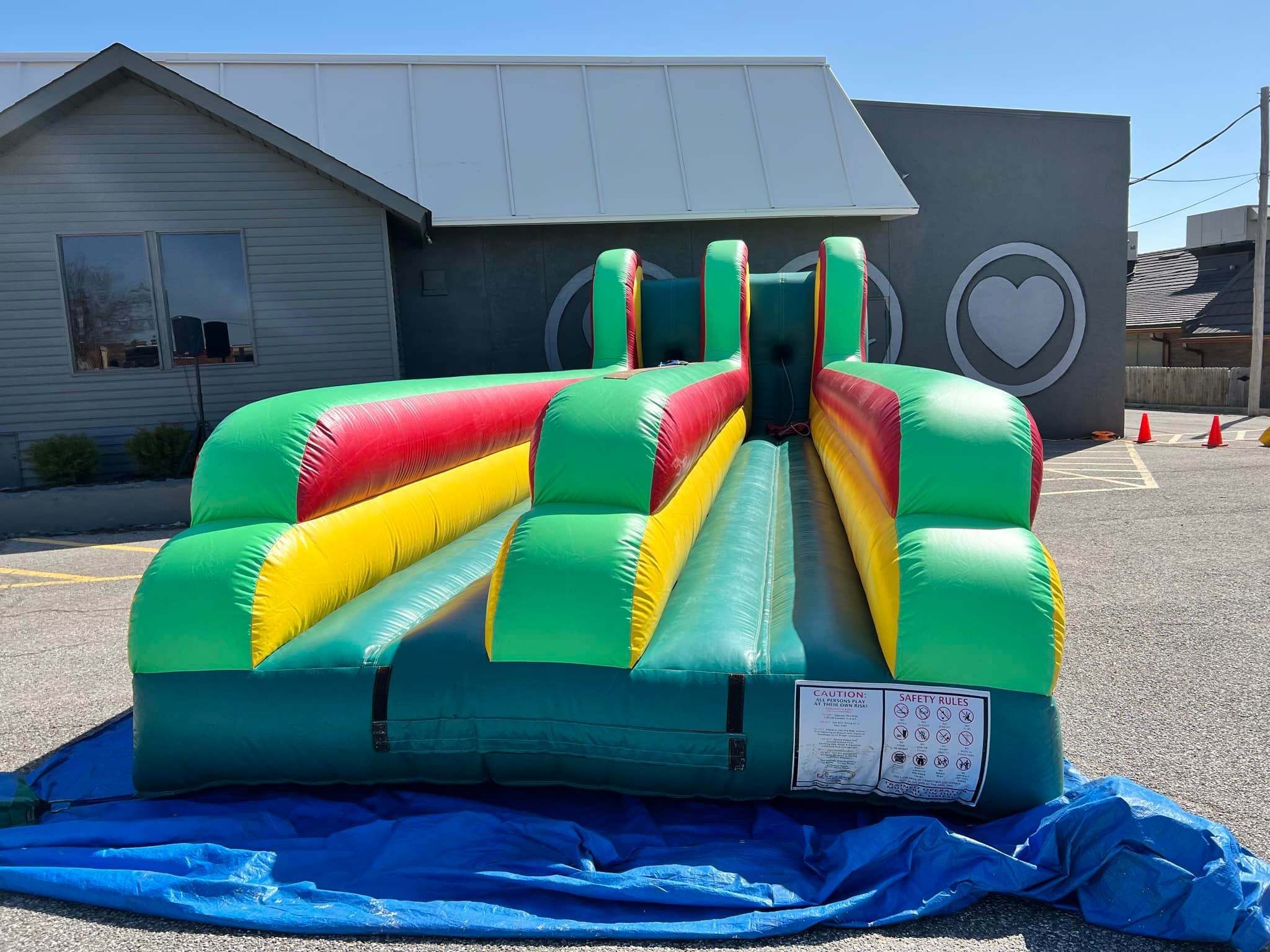 Next, we arrive at the realm of school carnivals and fundraisers! Picture the excitement radiating from young minds as they dash through inflatable mazes, navigating treacherous paths like daring explorers. With each leap, jump, and slide, they unlock the power of teamwork and unleash their inner superheroes. Best of all, our inflatable courses are perfectly safe, so parents, teachers, administrators, coaches, and other adults can rest assured that the kids are staying safe while having a magical time.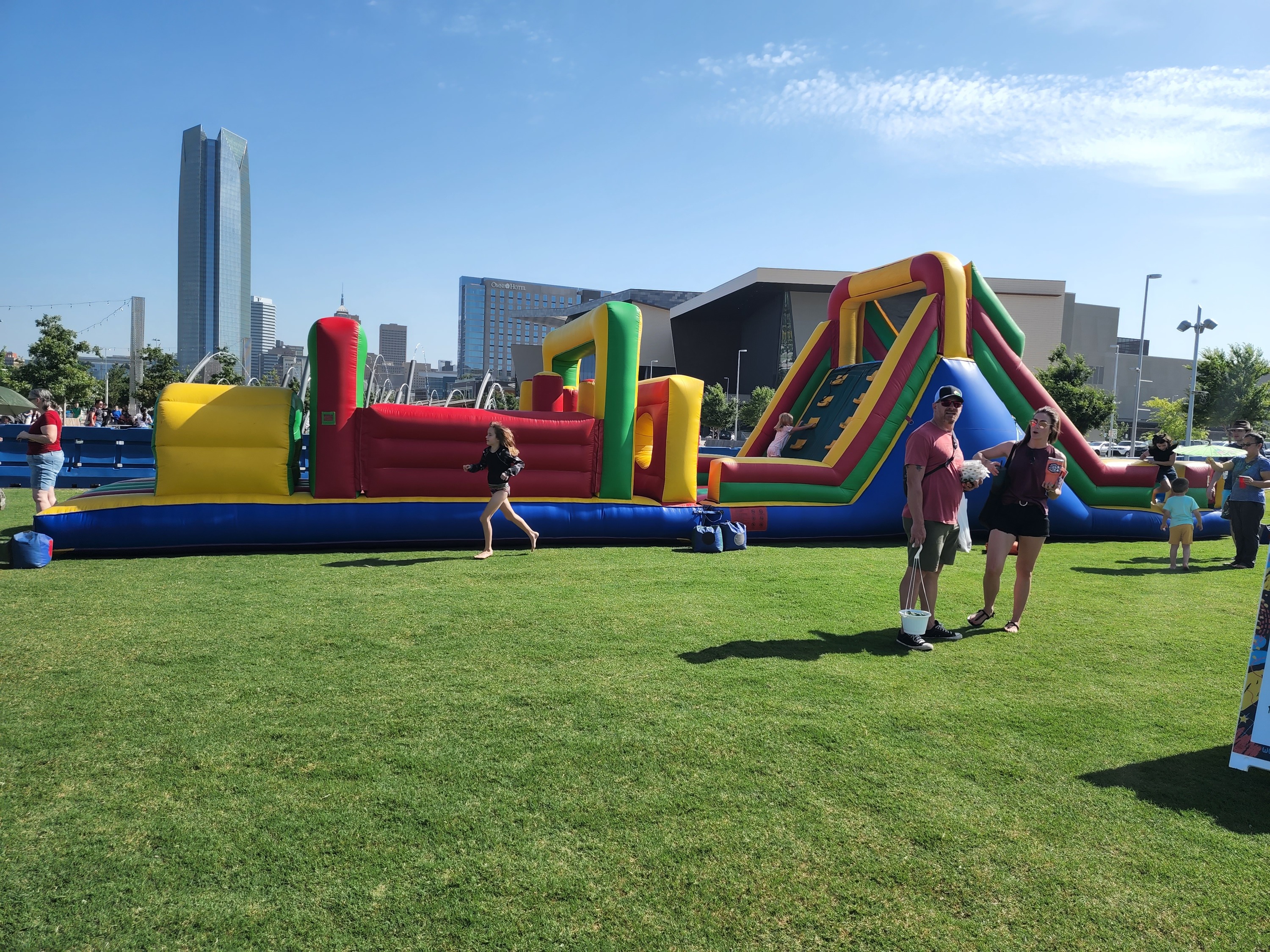 But wait, there's more! Our obstacle courses make corporate events extraordinary. Say goodbye to mundane team-building exercises and hello to epic challenges. Watch colleagues transform into spirited competitors, pushing their limits and forging unbreakable bonds. It's a fantastic way to boost morale and unleash a wave of laughter throughout the office or workplace.
Last but not least, we land in the magical realm of community festivals and fairs. Amidst the aroma of cotton candy and the sound of merry-go-rounds, our obstacle courses stand tall, beckoning the brave-hearted. From the littlest adventurers to the young at heart, everyone dives headfirst into the joyous chaos, creating memories that will be treasured for a lifetime.
Whether it's a birthday extravaganza, a school event, a corporate gathering, or a community celebration, our obstacle courses are the secret ingredient that turns any event into a magnificent adventure. Whatever your cause for celebration, our team is here to help. If you have additional questions, like how much do inflatable obstacle courses cost in OKC, we're here to guide you through the process, make suggestions, and ensure your entire guest list has a wonderful time. Join us and let the magic unfold!
Dozens of Options for an Obstacle Course in OKC
Reserve an exciting obstacle course in OKC and prepare to have your mind blown by the extraordinary selection that Inflatable Adventures has conjured up just for you! We've assembled a menagerie of inflatables, obstacles, and party equipment that will make your jaw drop, and your heart skip a beat. From towering water slides that make you feel like you're plunging into a rainbow to mind-boggling obstacle courses that challenge even the bravest of souls, our collection is a treasure trove of exhilaration. If you're searching for the #1 party rentals in OKC , you're in luck. We carry everything from backyard games to bounce houses to event furniture to concession stands!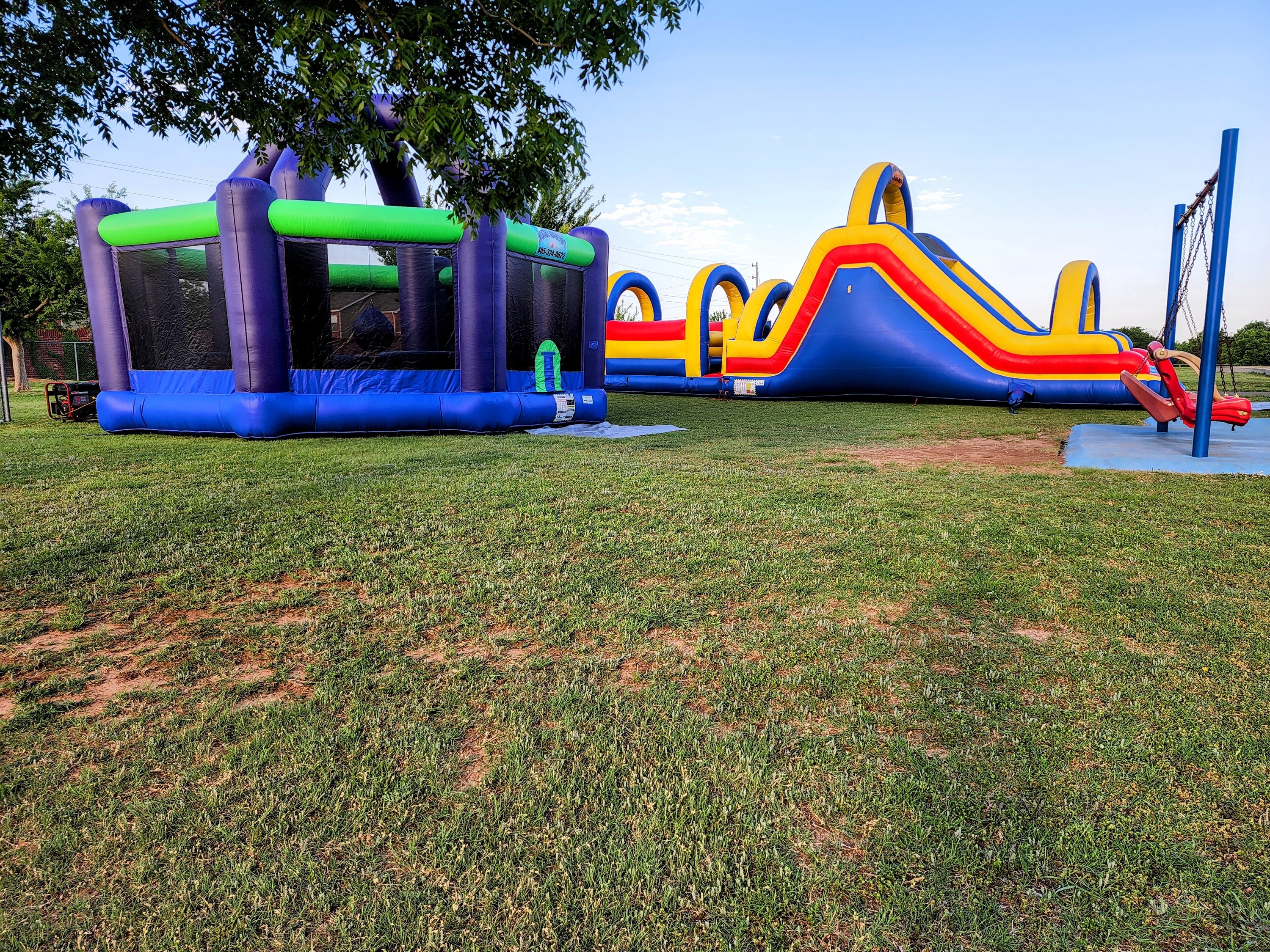 With an array of themes, colors, and sizes that could rival a kaleidoscope, we guarantee there's something for every adventurer and party enthusiast. We have a wide selection of obstacle courses in OKC that are suited for a range of ages. Our Toxic Fall Obstacle Course is designed for older kiddos, beginning at age 7, and will challenge them to hop, run, crawl, and climb. Will your attendees be able to ascend the pillars and reach the top of the drop-off? Another exciting option is our colorful 38' Obstacle Course, designed for ages three and up. This is the perfect unit to encourage some friendly competition with a one-on-one foot race! Who will race to the top and over the edge first? Whether you're searching for an indoor obstacle course adults in OKC use or something geared toward young kids, we have it all. Get ready to embark on a journey through our dazzling assortment and choose the perfect inflatable companion for your next epic event!
Why You Should Choose Our OKC Giant Inflatable Obstacle Course Rental
With the help of our OKC giant inflatable obstacle course rental, your wildest party dreams come to life! There are countless reasons why our customers can't get enough of our obstacle courses and party rentals and continue to choose our services and selections for their birthdays, team-building events, baby showers, graduation celebrations, field days, carnivals, and more!
Picture this: you step into our realm of bouncy wonders, and your imagination takes flight like a unicorn on a sugar rush. Our obstacle courses are crafted with pure enchantment and designed to transport you into a whimsical world where laughter knows no bounds. Customers continue to choose us because they know we can turn any event into an unforgettable adventure.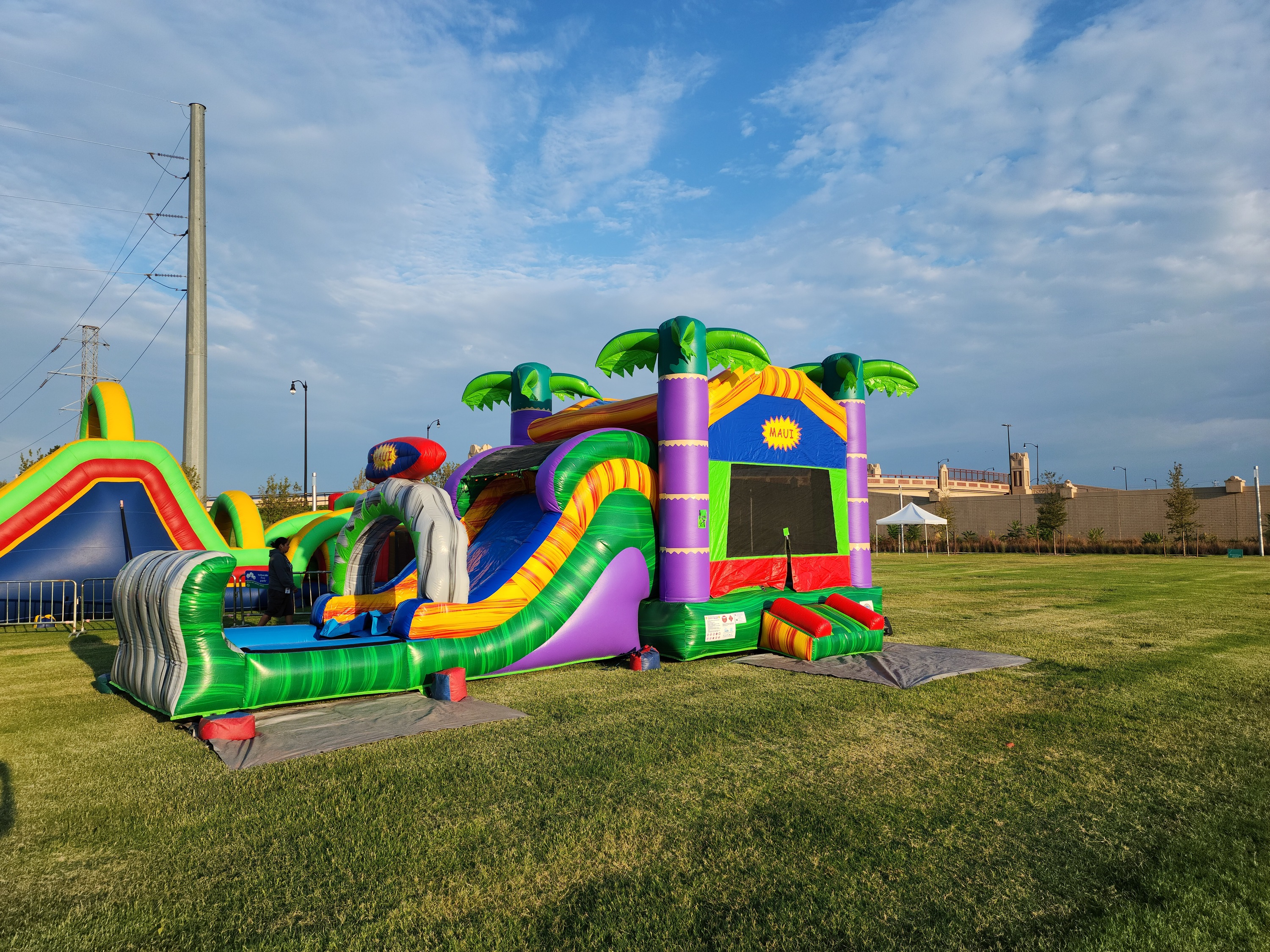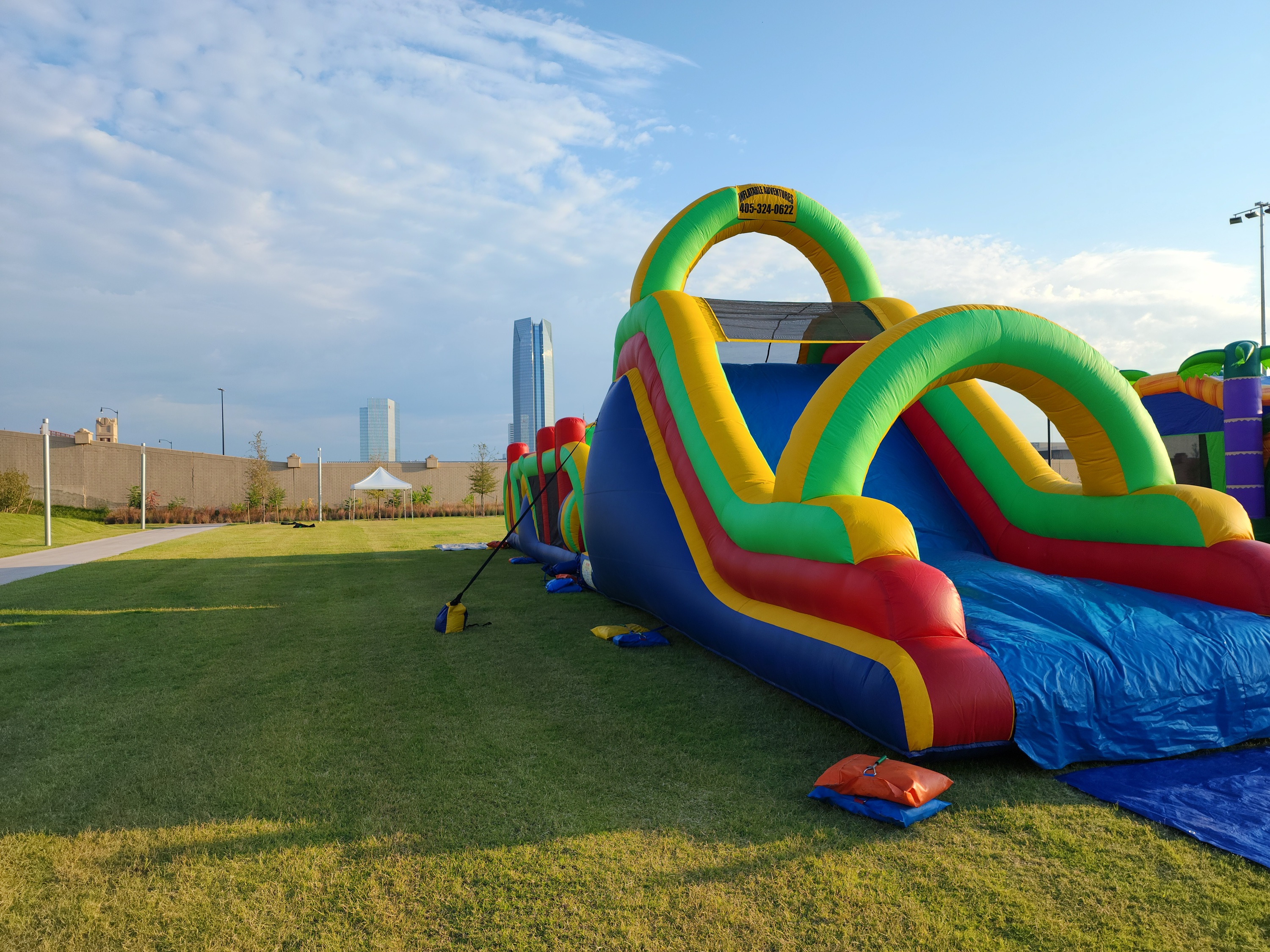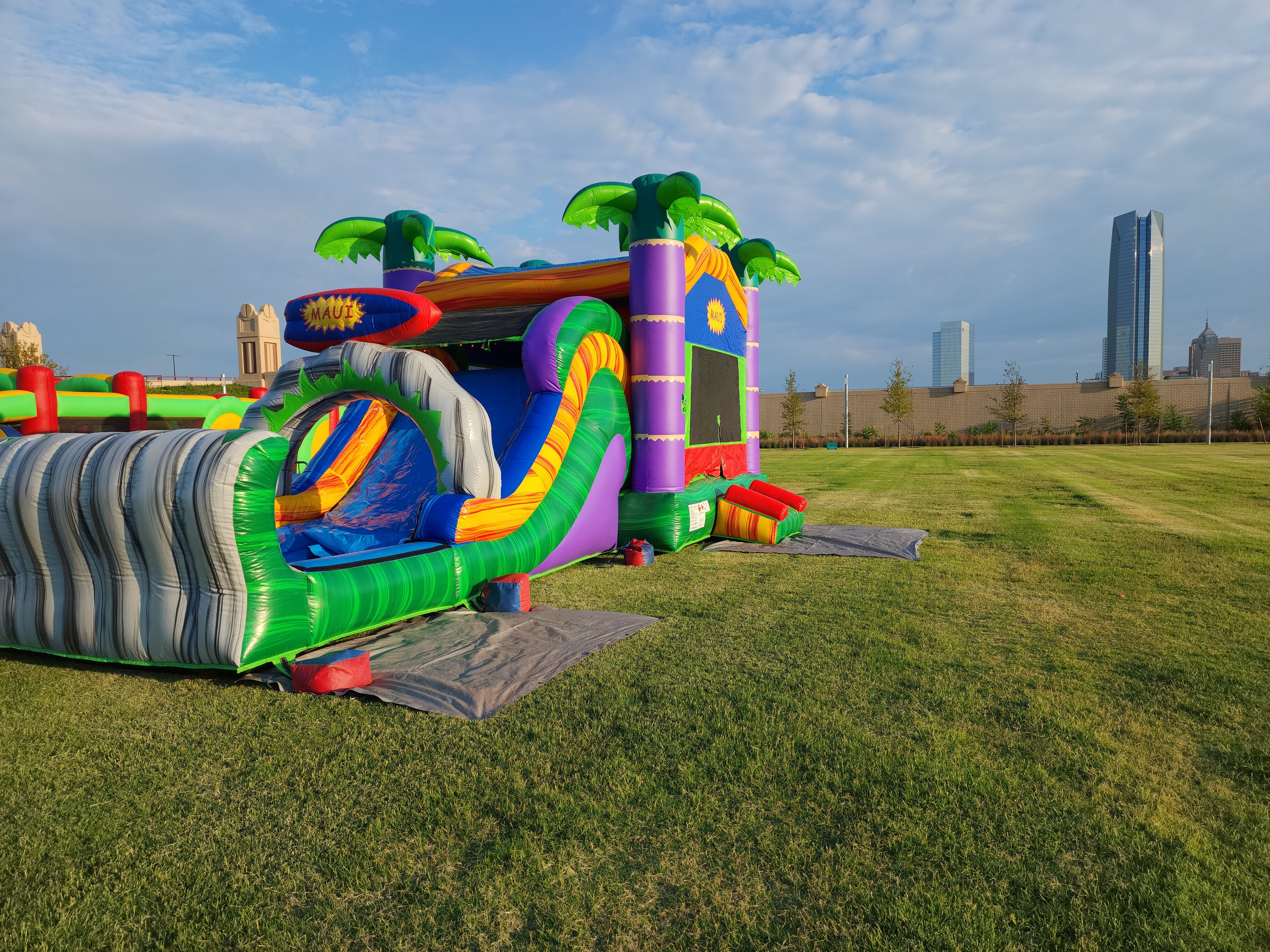 Our party rentals are the stuff of legends. Whether you're throwing a birthday bash, a family reunion, or even a corporate event, we've got you covered. From towering castles to gigantic slides, our range of inflatables will make your heart skip a beat and your spirit soar higher than your favorite fairy tale character!
Safety is just as important as having fun, and as a fully licensed and insured company, we take safety just as seriously as creating unforgettable adventures! Our inflatables are crafted from the finest materials from reputable manufacturers, undergo rigorous inspections, and are handled by a team of dedicated party wizards who prioritize your well-being above all else.
When it comes to choosing the perfect partner for your obstacle course and party rental needs, there's only one name to consider: Inflatable Adventures! Come rent inflatable obstacle course for adults in OKC from our team, and together we'll create memories that'll make your inner child do a happy dance.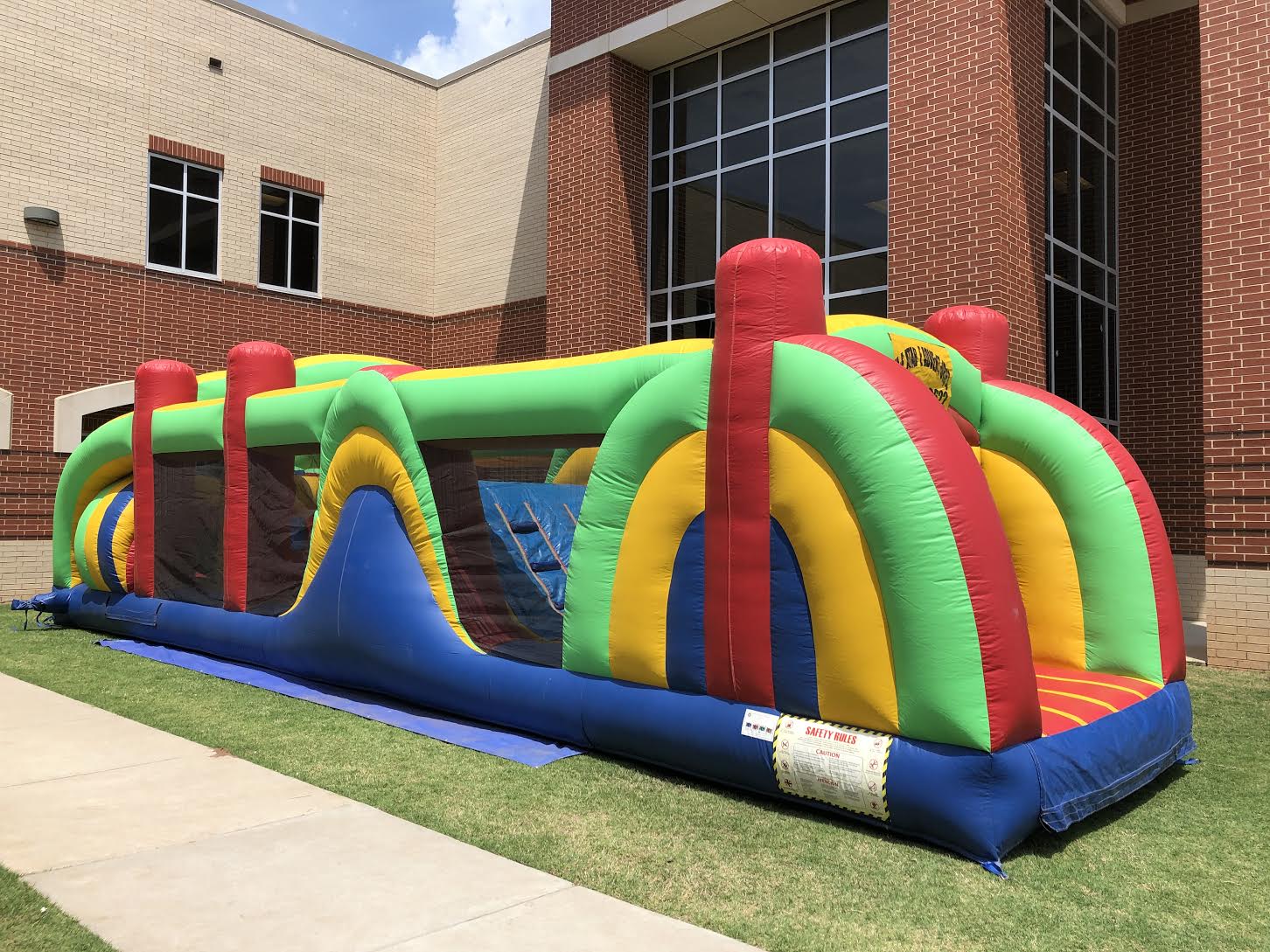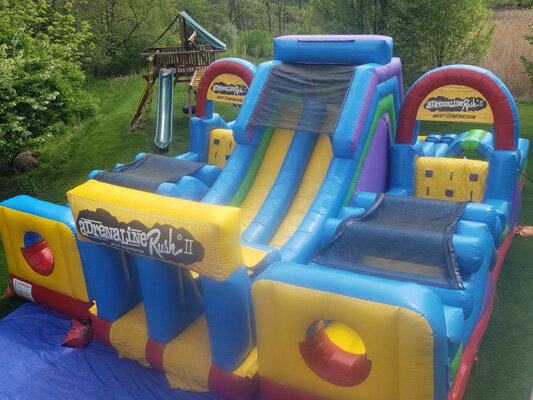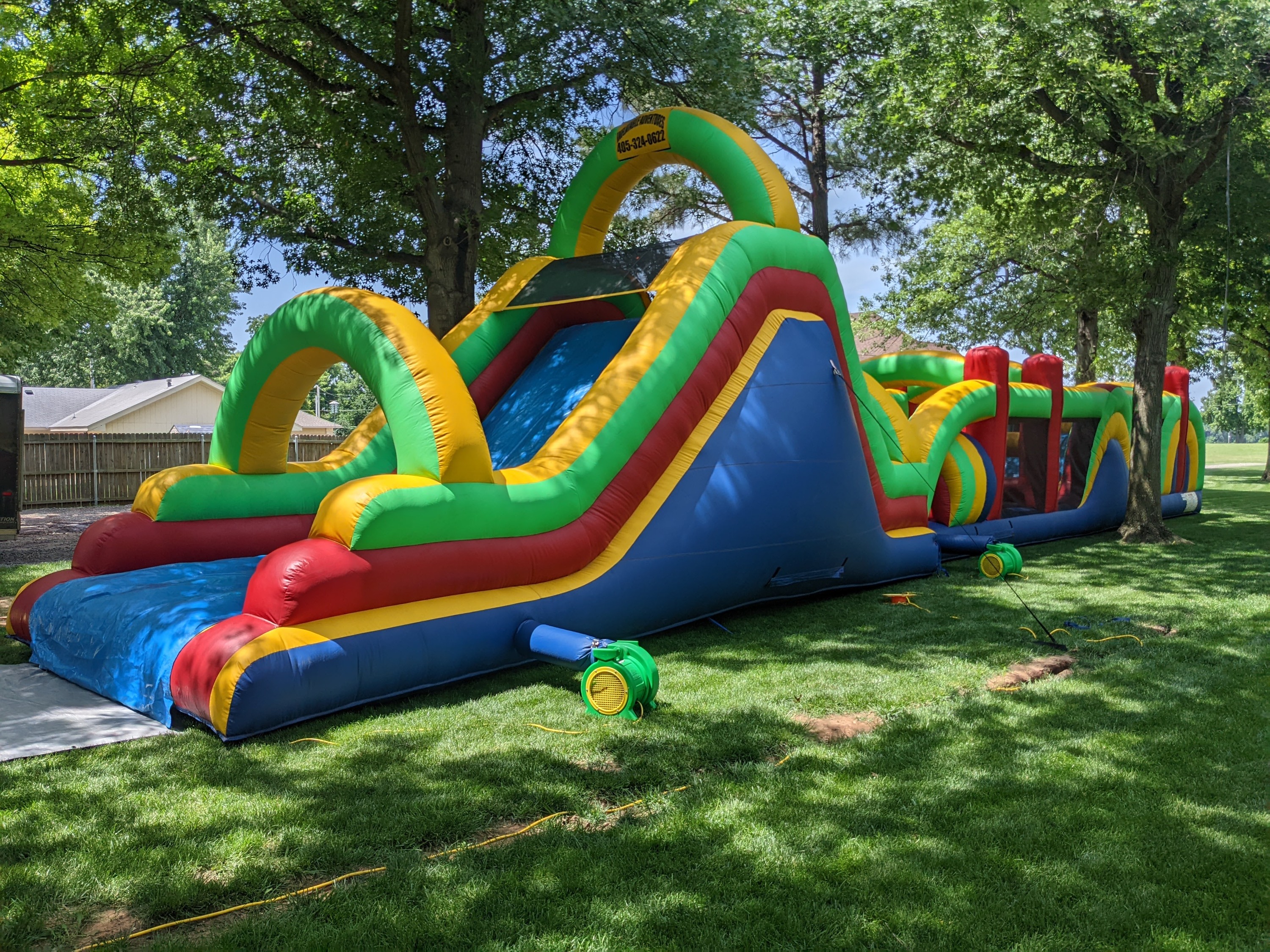 How to Host an Obstacle Course Birthday Party OKC Will Love!
Whether you're ready to host an obstacle course birthday party OKC guests of all ages will love or a community festival that will thrill and excite, we make the reservation process easy and streamlined. Booking with our team is simple and stress-free, and you can do it online or over the phone!
To book online, simply browse our selection of obstacle courses. Choose from our mega Toxic Fall, our bright and colorful Adrenaline Rush, or one of our other crowd-pleasing options. Once you've found the perfect obstacle course OKC uses for events year-round, select the date and time you'd like to rent it for and add it to your cart. From there, you can complete the checkout process and secure your rental with a deposit using any major credit card.
If you prefer to book over the phone, just give us a call at (405) 324-0622, and one of our friendly staff members will be happy to assist you. We'll walk you through the rental process step-by-step and answer any questions you may have about hosting an obstacle course birthday party OKC party-goers of all ages will have a blast at!
No matter how you choose to book, we'll work with you to ensure the process goes smoothly by providing you with all the information you need to prepare for your rental, including setup instructions, safety guidelines, and more. And on the day of your event, we'll be there to deliver and set up your obstacle course, so you can focus on having fun. Book a team-building obstacle course OKC companies, community groups, and organizations love and get ready for an adventure you'll never forget!
Delivering Exciting Options for an Obstacle Course Near OKC
We're happy to deliver our selections for an obstacle course near OKC across Oklahoma County, including the 73102, 73103, 73104, 73105, 73106, 73107, 73108, 73109, 73110, 73111, 73112, 73114, 73115, 73116, 73117, 73118, 73119, 73120, 73121, 73122, 73127, 73128, 73129, 73130, 73131, 73132, 73134, 73135, 73139, 73141, 73142, 73145, 73149, 73150, 73151, 73159, 73160, 73162, 73165, 73169, 73170, 73173, and 73179 zip codes. We've built solid relationships with other small businesses, clubs, and Oklahoma City Public Schools and have provided OKC wipeout inflatable obstacle course rental selections to neighboring cities for a variety of exciting events!
Whether you're hosting a family reunion at a local park, like Lake Hefner Park or Martin Park Nature Center, or planning a school field day at one of our school campuses, our obstacle courses are a must-have. Encourage some healthy activity and friendly competition at a school or church event, a local college outdoor day, or a community fair with an obstacle course near OKC. There's so much about our city that makes it a unique and enjoyable place to live and visit, including the Oklahoma City Zoo, National Cowboy and Western Heritage Museum, and Chickasaw Bricktown Ballpark. One of the things that make our city extra special is the people who live here, and the best part of our job is helping residents, businesses, community organizations, and individuals throw memorable and show-stopping events, no matter what the occasion is! Browse our expansive inventory, select the best obstacle course rental for your specific party needs, and check out online today.
FAQs About the #1 Inflatable Obstacle Course Rental Oklahoma City OK Has to Offer
Learn more about the inflatable obstacle course rental Oklahoma City OK uses year-round! Got some burning questions about Inflatable Adventures? We've got you covered with our handy FAQs section!
Q.
What types of inflatables do you offer?
A.
We carry a wide variety of inflatables to choose from, including bounce houses, water slides, obstacle courses, and more! Whether you're planning a birthday party, corporate event, or backyard barbecue, we've got the perfect inflatable to suit your needs. Whatever your needs are for an inflatable obstacle course rental Oklahoma City OK uses to take the fun to the next level, we've got the rental for you!
Q.
How much does it cost to rent your equipment?
A.
Our standard rentals begin at four hours, depending on your needs. We also offer overnight and multi-day rentals for an additional fee. Just let us know what works best for you, and we'll do our best to accommodate your schedule!
Q.
How long can I rent party equipment for?
A.
Our standard rentals begin at four hours, depending on your needs. We also offer overnight and multi-day rentals for an additional fee. Just let us know what works best for you, and we'll do our best to accommodate your schedule!
Q.
Is it safe to use your obstacle courses?
A.
Absolutely! Safety is our top priority, and we take every precaution to ensure that our inflatables are clean, properly maintained, and installed correctly. Our staff will provide you with detailed safety instructions and guidelines to ensure that your event goes off without a hitch.
The Rental Inflatable Obstacle Course Oklahoma City OK Customers Give 5 Stars!
For the best rental inflatable obstacle course Oklahoma City OK has to offer, choose Inflatable Adventures! Whether you're throwing a birthday party, planning a community festival, or hosting a church event, we're here to make the process as simple and stress-free as possible with convenient booking, affordable equipment, and friendly service. We pride ourselves on providing the best party experience possible! But don't just take our word for it - our customers have some amazing things to say. Check out a selection of our 5-star reviews below and schedule a delivery online today with ease.
What Customers are Saying
"Josh is a good man who puts others first and will do the most to make sure his clients, friends, family, and people he doesn't know all that well are happy. He is one of the best people I know."
- Matthew
"They were professional and courteous! Had a great experience and our daughter's birthday party was blast! Kids loved the inflatable obstacle course! I would definitely recommend and we plan on using them again in the near future!!"
- Brian
"The new ownership and management are trustworthy and fun people that I know personally. I have nothing but great things to say about them and looking forward to watch them grow their relationships and business with the kids, families, and community."
- Ben
Previous
Next