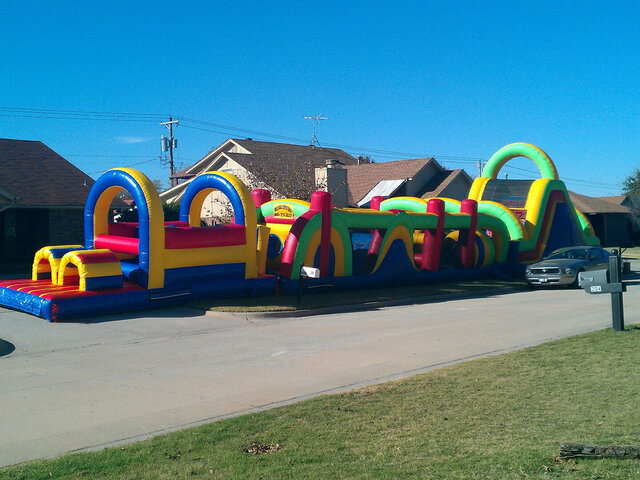 Description
Our 100ft Obstacle course is the biggest in Oklahoma! It features a dual lane challenge for 2 competitors at a time. Take your party or event to the next level of fun with this huge and challenging obstacle. This obstacle is a whopping 100 ft. long with the last climbing wall and slide reaching 16 ft. tall. The rainbow colors and look to this obstacle make it stand out in the crowd. To begin this 100 ft. challenge, two competitors enter in through the crawl hole on their side of the obstacle course and then turn on the heat by racing through each element of the obstacle course as fast as they can while watching the competitor right next to them is doing the same while both are trying to be the first to reach the final climbing wall and finally the slide to the finish.
During your challenge you will find Vertical popup obstacles, obstacles you must crawl through or under rock climbing wall, and finally a 16 ft tall slide to fight for the finish. It is okay for kids 5 years and up, but will also provide a challenge and fun for teens and adults as well. This if a very good obstacle course with a thrill of a slide at the very end offering a reward for competitors for giving their all throughout the course. The course is long and will require endurance to beat competitors.
Recommended age 5 and up
Dimensions: 100ft X 12ft X 16ft
This unit requires 2 outlets within 100 ft. of the set-up area.
Uses 3 blower units